Life at THCC
November 24, 2022
2022-12-14 15:45
Life at THCC
Life at 'The Hub Cadet College' (THCC)
The day in THCC starts with 'Reveille' and ends with 'Light out'. Cadets are given time to get ready for Fajar prayers, followed by Morning PT/Parade in their uniforms. They go back to their Wing / Hostel for shower / change. In winter, cadets use hot water conducted from geysers. After breakfast in Mess Hall, cadets march in formation towards academic block for assembly, preceding their formal education in classes and labs. Chemistry, Physics, Biology, Computer and English lessons take place in their commodious laboratories. Other subjects are taught in classrooms. In Break, cadets are given refreshment in Mess. Cafeteria also serves cadets. After classes are over, cadets move to Mess for lunch, which is followed by change of dress for Zuhur Prayers. Cadets, then, relax and enjoy siesta. A succession of events, like Asar Prayers, Sports hour, Maghrib Prayers, Prep-1, Dinner, Canteen hour, Isha Prayers and Prep-2, happens before 'master on duty' like coaches of a fast train passing past a station. Preps are the preparatory hours in which cadets study in their rooms, duly supervised by their house staff and guided by the concerned subject teachers as per their schedule. In the last 15 minutes of the daily routine, students have to prepare their kit for the next day. Saturday evenings bring change in cadets' mundane life with an entertaining movie-show, minus preps. Sundays bring parents to the campus, which refurbishes the spirits of cadets. They are also allowed to call their parents on Sundays. A glorious Sunday is not yet over, when they are served a sumptuous dinner at Mess. There is spectrum of colourful events in their annual calendar sporadically taking place throughout the year, adding colour to the life of a cadet in a cadet college. 
Food and Messing
Our dining hall provides a pleasant and spacious environment in which our cadets enjoy their mealtimes. The Messing Hall has the capacity of 360 cadets to dine at a time. The Jaffer Farms on THCC premises have a dedicated staff, which grows vegetable and runs a poultry farm besides a large stretch of orchards. Therefore, the food served is organic, and some essential items like, milk, eggs and vegetable are supplied to the mess by our own farm.  We ensure balanced diet with variety of dishes at all three meals of the day. It's the 'cadets mess committee', which decides the menu of the week. The food is cooked in accordance with 'regimen'. Since the food stuff is fresh and hygienic, cadets don't face gastric issues; so, we generally don't have patients of acidity, indigestion, constipation or stomach-ache.  
Tuck Shop / Canteen
There is a tuck shop at THCC for cadets, which sells essential items and refreshing edibles. It is open twice a day with two slots in cadets' daily routine.
Anteroom
For cadets' leisure time, there is a common room annexed to the hostel, which has both TV and music player for cadets' entertainment.
Gymnasium
The cadets' hostel has a spacious gym with exercising tools, inclusive of a treadmill, for physical fitness and bodybuilding.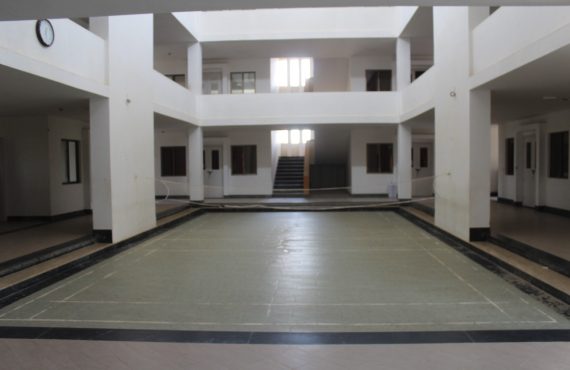 Sports and Games
The Hub Cadet College promotes healthy activities for both mind and body. We have both indoor and outdoor games, such as scrabble, carom-board, table tennis, badminton, basketball, football, hockey, cricket, baseball, and volleyball. Karate Club is in our perspective plan.
Societies / Clubs and Committees
THCC believes in curriculum enrichment and inculcation of personality traits. To materialize the aforementioned belief, cadets have been facilitated to have their clubs and societies in their interests, duly guided by their respective teachers in charge of the clubs / societies. Some of them are mentioned below:
English Literary Society
Urdu Literary Society
Writers Forum
Pakistan Studies Society
Science Club
Quiz Club
Mess Committee
Environment Club
Fine Art Club
Riding Club
The Hub Cadet College Has